SCHNEIDER ELECTRIC
Allied Electronics & Automation is an authorized distributor for Schneider Electric. Schneider contactors, relays and switches are in stock for same-day shipping. Select the best Schneider product for your needs from our wide range available to buy online. Allied also carries Schneider brands including Square D, Telemecanique and Magnecraft.
More About
SCHNEIDER ELECTRIC

Build a Better Control Cabinet
We Have 99% of the Components You Need
When you integrate design with manufacturing, you get reduced production costs, improved functionality, and an extended life cycle. This broad selection of components and complete technical support from Schneider Electric allows you to deliver quickly and efficiently.
Pick Your Solutions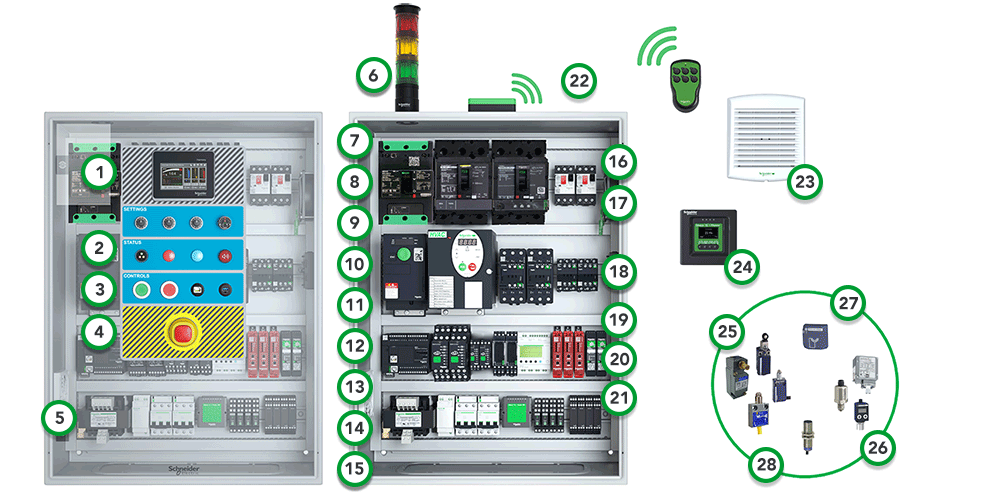 Product Selection Made EASY
Our new product selection tool is designed to assist you in choosing the exact product solution you need. Click-to-answer questions guide you through finding the right product for your application and useful information (like helpful customer questions and direct links to detailed product information) is also available. Go ahead – give it a try.
Resources
Website
Documents / Downloads
Technical Publications
Automation & Control CAD File Library
White Papers
Press Release
Product Configurators
Download Documents and Software
Click below to download Schneider Electric offer documentation, support information, certificates, CAD files, software, and more!
Schneider Electric Documents/Downloads
Automation & Control CAD File Library
Click below to view the Schneider Electric Automation and Control CAD Files Library. Over 20 different file formats are already available!
Schneider Electric CAD File Library