Schneider Electric TM5SAO4H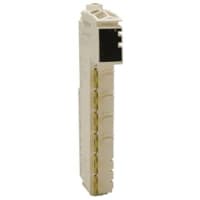 View larger image
Image may be a representation.
See specs for product details.
Electric PLC I/O Module TM5 0 - 20 mA 24 V dc; 99 x 12.5 x 75 mm

RoHS Compliant Part
Resources

Datasheet
Pricing (USD) & Availability
Overview
Schneider Electric Modicon Momentum Series — Controller and IP20 Monoblock I/Os for Distributed Control Architecture:

The small footprint and open architecture of the Momentum PLC product line make it extremely versatile for a variety of automation applications. The Unity Momentum PLC is ideal for PC-based control, distributed control, distributed I/O, and traditional, standalone PLC control. The Momentum PLC product line includes I/O bases and communication adapters that are interchangeable and snap together to deliver optimal flexibility throughout the control system life cycle. Using Ethernet as its communications backbone, the Modicon Unity Momentum CPU delivers all the performance benefits of real-time control. The open architecture of the Unity Momentum CPU makes it a universal controller for distributed I/O, compatible with many of the major fieldbus and control network environments. An integral Ethernet port in the Unity Momentum CPU allows users to perform a wide range of functions over Ethernet, including data acquisition, peer-to-peer communications, and I/O scanning. Embedded web pages enable the use of a standard web browser to read status and diagnostic information from the processor.

The Momentum Automation Platform products are modular. Communication Adapters and Processor Adapters are designed to work as functional modules when they are snapped onto a Momentum I/O base. An I/O base requires some type of Momentum Adapter assembled on it before it can be functional. The I/O bases fit into compact standard housings that can be mounted on a DIN rail or on panels in a cabinet. They read information from field sensing devices and control discrete and analog field actuating devices.

Terminal blocks and bus bars are available for use with the bases so that they can be used to support 2-, 3-, and 4-wire fi eld devices. The I/O field devices and the power supply to the module are connected via three 18-pin terminal blocks and an optional 1-, 2-, or 3-row busbar. The terminal connectors are electrically connected to the module; the optional busbars not. Busbars provide a common connection for the fi eld devices and serve as protective distribution connectors. Depending on the I/O base and the type and number of field devices to which it is connected, a 1-, 2-, or 3-row busbar may be used. Terminal blocks and busbars are ordered separately, and are not shipped with the Momentum I/O bases. They are available in either screw-in or spring-clip versions.

Disctrete I/O Bases Features:

IP20 monoblock I/O bases: Provide the foundation for the rest of the Momentum control system and serve as the mounting base for communication adapters, processors or option adapters. > 30 I/O module types available: analogue, discrete, multi-function, etc.

Processor adapters: Operate with a single local I/O module, or in systems with up to 128 modules servicing 8192 I/O points. Built-in distributed I/O communication port, Modbus TCP/IP-Ethernet or Modbus RS232 serial communication, and embedded Web pages

Option adapters: Provide additional networking capabilities to the processors, as well as a time-of-day clock and battery back up

Communication adapters: Snap onto any of the I/O modules, including Modbus TCP/IP, Modbus Plus, FIPIO, INTERBUS, PROFIBUS DP, and DeviceNet

Momentum is a flexible, modular family of fundamental components that easily snap together and can be configured for a wide range of distributed I/O and control applications.

Applications:

Infrastructures and Energy: RTU

Building and Manufacturing Automation

Water Treatment

Pumping

Oil and Gas

Food and Beverage

Power Distribution

Material Handling