Schneider Electric VLS1P063R2S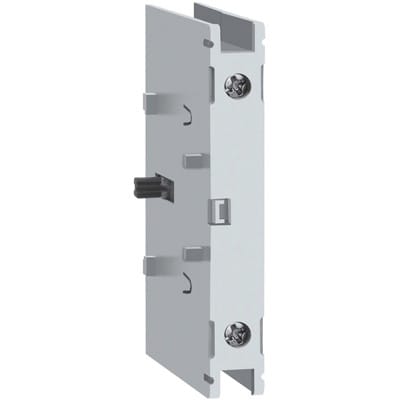 View larger image
Image may be a representation.
See specs for product details.
Disconnect Switch; 4th Pole; 63A; for VLS3P063R2
Manufacturer #:
VLS1P063R2S
RoHS Compliant
Resources

Datasheet
Pricing (USD) & Availability
Standard Pricing
$35.67
(Each)
| | |
| --- | --- |
| 1 | $35.67 |
| 3 | $34.07 |
| 5 | $28.40 |
| Product Attribute | Attribute Value | Search |
| --- | --- | --- |
| Series | TeSys VLS Series | |
| Maximum Current | 63 A | |
| Mounting Type | Door Mount | |
| Number of Poles | 1 Pole | |
| Terminal Type | Screw Clamp | |
| Type | 4th pole | |
| Primary Type | Disconnect Switch | |
| IP Rating | IP20 | |
| UPC Code | 785901566380 | |
Overview
Schneider Electric TeSys VLS Series – 16–125 A, 3, 6 & 8 Pole Version, UL98 and UL60947-4-1 Disconnect Switches & Accessories:

The TeSys VLS offer consist of UL 98 non-fusible disconnect switches from 63 to 125A and UL 508 motor disconnect switches from 16 to 60A. The three-pole 16–63 A disconnect switches are made up of a single unit body, a mere 36 mm (1.4 in.) wide, while those rated 63–125 A are only 70 mm (2.8 in.) wide. All VLS disconnect switches are certified by cCSAus and are UL Listed for Canada and USA. The 16–63 A types are certified according to UL60947-4-1/CSA 22.2 n° 60947-4-1-14 while the 63–125 A types to UL98/CSA 22.2 n° 4 standards. A mechanical coupling system is available for the 16–125 A disconnect switches for DIN rail mounting, to allow for 6- or 8-pole disconnectors, along with a mechanical interlock mechanism for the line changeover function (I – O – II).

Series Features:

Same product design for UL98 and UL60947-4-1

Single Hole mount version available for quick installation

No NFPA 79 tools needed, direct operating handle

Padlockable mechanism built into the switch

Multiple disconnect switches available

Din rail mounting (Switch unit + shaft + handle)

Door mounting (Switch unit + handle)

Handles designed with multiple hole patterns making it compatible with common brands

Defeatable handles in "I-ON" position, with a tool

Compact Size

16-63A switch recognized to UL60947-4-1

Red or black handles with reduced thickness

Wide variety– auxiliary contacts, ground or neutral terminals, fourth power pole, terminal covers, early make contacts

Two disconnect switches can be easily linked together for 6 or 8 pole switch or changeover

Global approvals - UL, CSA Conforming to UL60947-4-1 (16–63 A) or UL98 (63–125 A) specifications

Applications:

Designed for perfect integration in control systems

Extremely durable and can be used in the most demanding applications

Pumping, mining, material handling, HVAC, solar energy etc.

3 Pole Features Overview:
Side Mount Add-on Fourth Pole:

Simultaneous or early-make contact operation of the fourth pole with respect to the disconnect switch poles.

Add-on Auxiliary Contacts:

One add-on block suitable for use with all eight ratings of disconnect switches, having simultaneous operation with the switch poles. Includes versions with an early-break NO contact.

Maximum Combinations:

On each disconnect switch, mount up to four auxiliary contacts, or three auxiliary contacts plus a fourth pole (two blocks on the right and two on the left). The ground and neutral terminals and fuse holder can also be added.

IP65 Padlockable Handles:

Offers a wide range of selector or pistol grip handles, with screw or ring (hole) mounting. All handles are equipped with a built-in padlockable mechanism. VLSH2H5R selector handles snap onto the 16–40 A door-mounting disconnect switches with no need for tools.

Handle Adapability:

The predrilled mounting holes in the front handle plate make it easier to replace disconnect switches in the field without additional drilling.

Defeatable UL60947-4-1 Handle Version:

UL60947-4-1 standards require internal panel inspection by authorized personnel, with power applied. For rear mounting devices, selector and lever handles are available with a UL60947-4-1 feature as part of the operating handle, to provide a defeat function when the disconnect switch is closed (that is, in the On position).

6 & 8 Pole Features Overview:
Fuse Holders:

A three-pole fuse holder can be added to 16–32 A disconnect switches for DIN rail mounting, to provide a single compact unit. The fuse can be accessed only when the disconnector is in the OFF position. Fuses: UL listed, 30 A, Class CC.

Reduced Handle Thickness:

VLSH1S5R and VLSH1S5B handles are only 23 mm (0.9 in.) thick.

Switch Status Indication:

The open or closed state of the switch is clearly visible at a distance thanks to the simple and modern design of the handle.

DIN Rail Mounting:

The disconnect switch is mounted and removed from the 35 mm (IEC/EN 60715) DIN rail by simply pressing it downward, with no need for tools.

Slide-Resistant Rubber Insert:

A rubber insert helps prevent the disconnect switches from sliding on the DIN rail, even when they are out of tolerance or mounted vertically.

Terminal Adaptability:

Terminals can accept solid or stranded wire in either metric or AWG sizes. They can withstand high tightening torques as specified on the device.

High IEC Capability in AC23:

Offers high rated currents (Ie) in AC23 at 690 VAC

Modularity:

The disconnect switches can be mounted in modular panels.