NKK Switches IS-DEV KIT-6C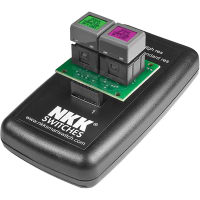 View larger image
Image may be a representation.
See specs for product details.
SmartSwitch Develop Kit; Two IS15DSBFP4RGB Switches; Cables and a Power Supply
Manufacturer #:
IS-DEV KIT-6C

RoHS Exempt Product
Resources

Datasheet
Pricing (USD) & Availability
Availability
0 can ship immediately.
Estimated Mfr. Lead Time: 14 weeks
Overview
NKK SMARTSWITCH® Series Dec Kit 6, 6D, 6C, 6HB – LCD and OLED Programmable Dev Kits:

NKK offers the industry's most extensive selection of off-the-shelf OLED and LCD programmable devices, referred to as SmartSwitches. NKK's SmartSwitch products combine a pushbutton or rocker switch with a graphic OLED or LCD display for a space-saving, simplified, multi-function device. A wide array of options are available from full-screen OLED pushbutton to compact LCD and display options. A complete line of development engineering kits are also available to enhance your design and application.

The NKK SmartSwitch is a pushbutton switch that enables designers to create clear paths in complex decision making environments using intuitive and programmable custom menus. This enhanced decision-making capability provides a significant upgrade in the ease-of-use for operators giving more accurate guidance to complete their tasks. NKK's SmartSwitch increases efficiency by reducing the time to train operators while delivering a significant reduction or elimination of operator errors. The SmartSwitch also has a wide viewing angle and can be seen from a distance allowing operators to quickly see any changes in their critical environments.

SMARTSWITCH® Series Dec Kit Features:

Assists with rapid prototyping and understanding the capabilities of the different SmartSwitch products.

Contains all the necessary components to get you started using, testing and ultimately incorporating NKK Switches' SmartSwitch into your designs.

The development kits come pre-programmed for demonstration. They can be reprogrammed by the user for demonstration or real-time application.

NKK provides a free PC software (Universal Communicator 2015) for programming the development kits.

IS-DEV-KIT-9, IS-DEV-KIT-8, IS-DEV-KIT-7, IS-DEV-KIT-7D, IS-DEV-KIT-6, IS-DEV-KIT-6C, IS-DEV-KIT-6D, IS-DEV-KIT-5, IS-DEV-KIT-5C, IS-DEV-KIT-5D, AT9946-93G, AT9946-091B, AT9946-099A, IS-S0108DEM, IS-CL04FL

Dev Kit 6, 6D, 6C, 6HB Features:

IS-Dev Kit-6 controls two LCD 64x32 RGB pushbutton SmartSwitches (IS15EBFP4RGB).

IS-Dev Kit-6D controls two LCD 64x32 RGB SmartDisplays (IS01EBFRGBand two tactile switches.

IS-Dev Kit-6C controls two LCD 64x32 RGB compact SmartSwitches (IS15ESBFP4RGB).

IS-Dev Kit-6HB controls two LCD 64x32 RGB hybrid SmartSwitches (IS15EBFP4RGB-09YN).

Serial communication via RS232 (57.6K, 1 start bit, 8 bit , 1 stop bit)

Optional audio feedback while switch is pressed.

Program responses to switch-actions events and timer-expire events.

User programmable for images, attributes and set-ups.

Set the type of activity reports from the controller to host.

LED Brightness settings.

Flash memory for 255 pictures and attributes.

Reports switch activity and timer expiration via serial port.

Standalone operation or real time control by host.

The firmware can be customized based on customer requirements.

Socketed switches for easy examination.

Can be AC or battery operated (9V battery not included)