Machine Safety Solutions: Relays, Controllers, E-Stops, Switches, & More
Stay Compliant, Reduce Liability, and Increase Productivity
The comprehensive line of machine safety solutions from Banner provides the highest levels of safety without compromising productivity. Its easy-to-use designs were developed to protect personnel and equipment from accident and injury, and were built to perform reliably in challenging environments. From aligning a light curtain with visible alignment indicators to setting up a complete safety system via drag-and-drop safety controller GUI, systems are up and running, quickly, without steep learning curves. After installation, users can more easily manage safety systems with integrated, local indication and remote-monitoring capabilities.
Product Categories
Safety Light Curtains
Safety light curtains protect personnel from injury and machines from damage by creating a sensing screen that guards machine access points and perimeters.
Safety Relays
An easy-to-use safety control solution, industrial safety relays provide an interface between safety devices and the machines/processes monitored by those devices.
Safety Controllers
Safety controllers monitor multiple safety and non-safety input devices, providing safe stop and start functions for machines with hazardous motion.
Emergency Stop & Stop Controls
Emergency-stop devices provide workers a means of stopping a device during an emergency by pushing a button or pulling a rope in order to prevent injury to personnel and material loss.
Safety Limit & Interlock Switches
Safety interlock switches monitor mechanical guards that separate a person from a hazard. If a guard is opened or removed, interlock switches send a signal to halt hazardous situation.
Two-Hand Control Modules
Two-hand control devices keep machine operators out of harm's way by de-energizing and bringing motion to a stop when one or both hands are removed from the device.
Safety Laser Scanners
These flexible safety solutions are ideal for safeguarding complex and irregularly shaped areas and mobile assets that cannot be easily solved using other safeguarding solutions.
Customizable Modular Tower Lights
Visible from all angles, over long distances, and in bright conditions, tower lights provide real-time machine or safety status indication. Choose between AC and DC supply power options.
Safety Accessories
A wide selection of safety cables and wiring products, brackets, corner mirrors, and enclosures.
Resources
White Paper: How Integrated Visual Management and Remote Monitoring Demystify Machine Safety
Safeguarding machines and people is critical to ensuring smooth operation of any manufacturing facility. Learn common challenges for machine safety, and how combining safety devices with visual indication/remote monitoring can help make safety more effective.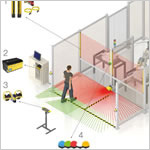 Infographic: 9 Common Machine Safety Devices
Mechanical hazards on machinery typically occur at points of operation, points of power transmission, and other points of machine movement. In the illustration, see how common machine safeguarding devices are used to mitigate multiple points of risk on a robotic workstation.

Intuitive Safety Solutions Video